Last week this large box of 200 bubble mailers arrived. It fits just fine under the table in the back corner of my studio.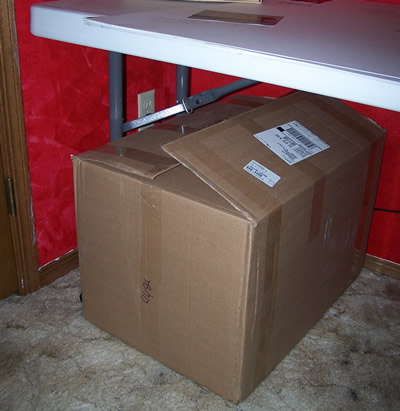 But there's a problem. That's where I was planning to store the cases of books. 2,500 books to be exact. I think I have a problem. The bubble mailers are 1/4-inch thick. My book is 3/4-inch thick. Now I know why my business-savvy friend raised her eyebrows when she asked me where I was planning to store my books and I said "a back corner of my studio." I don't think I really have any concept of how much space these books are going to require. But I'm starting to get the picture that maybe I should formulate a Plan B.
So, Plan B – Please, everyone go pre-order Pajama School – stories from the life of a homeschool graduate so that I don't have to find a place to store 2,500 of them!!! Do you think that will work? 🙂
In case it doesn't, uh, help!? Anyone have any brilliant suggestions for storing an inventory of this many books?