About the Author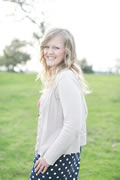 For as long as I can remember I've loved to read and write. From the time I was little I've kept a personal journal and I especially enjoyed writing stories and poetry.
After making my debut into the blogosphere in July of 2005 with my personal blog, I quickly became hooked on the concept and value of blogging. Shortly thereafter, I launched Music Matters Blog – a blog dedicated to providing creative, practical and up-to-date ideas for Independent Music Teachers.
A friend asked me a couple of years ago if I would ever consider writing a book. The thought had never really crossed my mind. And I couldn't think of a particular topic on which I felt compelled to write an entire book. Journaling and occasional articles or bits of poetry were enough for me. Until the end of 2006. As I was thinking and praying about goals for the next year, the thought came to me suddenly. Immediately a book title was at the front of my mind and the need for such a book infused me with excitement! A few days later, I shared the idea with my family. They voiced their enthusiastic support for the book and the project was begun! Two and a half years later, my first book, Pajama School – stories from the life of a homeschool graduate was officially released.
I currently live in Derby, Kansas with my parents and three of my younger siblings – my constant supporters and cheerleaders. They have helped get me started and now we look forward to being joined by many more as we continue on this Journey to Self-Publishing!
~Natalie Wickham